I love video stats and I especially love the platform that Ydraw offers to see those stats.  They matter and each video you launch should be placed on a platform that you can monitor and see what is going on with your viewers.  Lets take a look at a recent video we launched and then we can jump into the stats.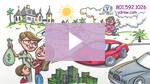 According to most recent studies, 25% of online video users will leave your video in the first 10 seconds or less.  That is a lot and I think it is going up as attention spans dissipate.  Every video we have posted, no matter how engaging, gets that initial Drop Off.  As Sting would say "That is Just The Way It Is."
By 30 seconds into an explainer video up to 40% of viewers have checked out and at 1 minute 49% have vanished.  It's a mystery really and our job is to find a way to improve those numbers.  You can see by the graph above that the new video we launched  is pretty engaging.  It does gets that initial drop off.  The nice thing about Video Scribing is that we can hang onto viewers a lot longer.  When we launched the Mitt Romney video it was amazing to see how many people would hang on for a 7 minute long video.  We tested it on YouTube and we have found that the longer the video the better our stats became compared to the average.
Now back to the stats. Most videos have a 40% drop in viewers we have a 25% drop.  If you get a lot of traffic that can mean a lot of money/conversions.  Now lets take a look at the next stat.  This is a fun one!
Explainer Video Heat Map
This stat really lets you see what you viewers are doing when they watch your video.  You can see where they clicked off, where they watched it twice or if they completed the video all the way through.  As you can see this explainer video creates some amazing results.  Almost all the viewers are making it to the end of the video.  Once we get that initial drop off the majority of our viewers hang on.
Pay attention to your Explainer Video Stats.  They do matter.
If you have any question please let us know.  Ydraw creates the some amazing Video Scribing Videos that are guaranteed to help your stats.